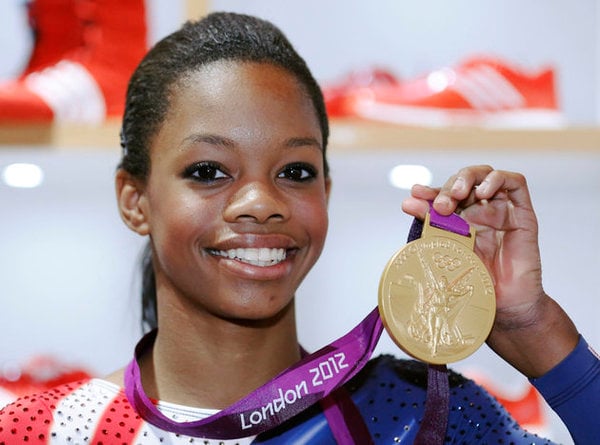 Olympic gymnastic champion Gabby Douglas is feeling ready and excited to defend her all-around title at next month's Rio Olympic Games.

Ahead of the gymnastic Olympic trials in San Jose, California, that begin Friday, the 20-year-old says it's "unique" and "special" that she's been given another opportunity to represent the USA.

"It means so much to me that I just have a very healthy body and a capable body to go back and defend my title and just go back to another Olympic Games," she told The Huffington Post in an interview. "It's just truly, truly awesome."

Douglas was 16 years old when she represented the USA at the 2012 London Olympics, winning gold and making history by being the first African-American to win the individual all-around title. Team USA also won gold four years ago, and for the Olympic trials Douglas is reunited with teammate Aly Raisman.

"It's so good that we both get to go together and just being on this road with her again," Douglas said. "We always reminisce about London."

For now, though, Douglas is in preparation mode: She's in the gym six days a week training and working on routines, and says she's on "autopilot." Though she feels some pressure ahead of trials, Douglas says she doesn't allow it to overwhelm her and is excited to give it her best.

"I just take one step at a time, one day at a time and just focus on what I need to do in the gym ... I just set little goals for myself," she said.

Setting goals and achieving them is part of why Douglas was invited to be part of Team USA sponsor Citi's Rio 2016 Olympics and Paralympic Games Stand For Progress initiative. Along with gold medalists Kerri Walsh Jennings, Nathan Adrian and Rudy Garcia-Tolson, and hopefuls Carlin Isles and Scout Bassett, Douglas met with college students from around the country to hear how they define progress. Douglas also had her own definition to share with them.

"[W]hat progress means is to push the limit, push your abilities and that's what I do in the gym everyday. ... That's what I do, that's my life," she told HuffPost. "I have these challenges and circumstances and for me I love it and it determines if I'm going to give in, give up or push that limit and achieve my goal."

Douglas credits her mother, Natalie Hawkins, and '90s-era Olympic gymnastics champion Dominique Dawes for inspiring her to succeed. As she prepares to take on Rio 2016, she said the most important thing to her is holding onto the joyful spirit she had at the London Olympics.

"I'm going to hold onto that joy because that's where my strength comes from," she said.
SOURCE: huffingtonpost.com