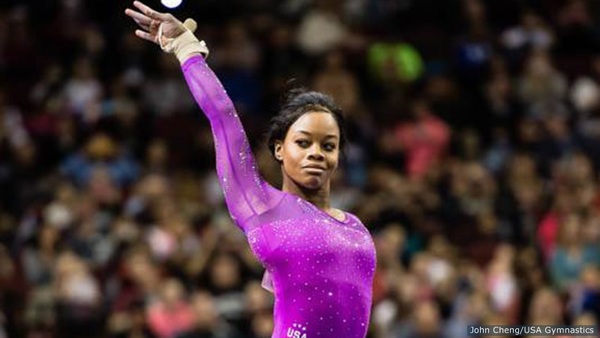 From TeamUSA.org - By Lynn Rutherford

Gabby Douglas' Road to Rio ran through the Prudential Center on Saturday, where most of the 12,541 fans in attendance at the 2016 AT&T American Cup seemed to be part of her personal cheering section.

"It means the world to me that my fans always come and support me and lift me," the 20-year-old Virginia native said. "To have this positive energy and positive vibe, it just means a lot."

This event was an important stepping stone for the 2012 Olympic all-around champion, who won the title with 60.165 points, taking top honors in the uneven bars, vault and balance beam events, and placing second to U.S. teammate Maggie Nichols in floor exercise. Nichols was second in the all-around at 59.699.

The American Cup, a FIG World Cup event, has a history of foreshadowing that year's Olympic all-around champion, with past champions including Mary Lou Retton (1984), Carly Patterson (2004) and Nastia Liukin (2008). Even Douglas put up the highest score at the 2012 American Cup, although competing as an alternate her result was unofficial.

"I'm stronger now than in 2012," said Douglas, who is aiming to become the first Olympic all-around champion to return to the Games since Nadia Comaneci in 1976 and 1980. "The form needs to be better, but my mental game is more there, and I feel more aggressive."

Roars greeted every stuck landing and high-flying maneuver in her routines, but her near-perfect beam performance almost tore the roof off of the Prudential Center.

"Beam was definitely my highlight — I wanted to be so solid," she said. "Training hadn't been going well, and I was just like, 'Do your normal, Gabby!' They say beam isn't my forte, but it really is. I'm trying to show people. I just have to be so aggressive, that's definitely the takeaway. I have to be confident."

Douglas is in the second year of a successful return to competition after taking two years off following the London 2012 Olympic Games. She won silver behind teammate Simone Biles at the 2015 World Gymnastics Championships last fall in Glasgow, Scotland, and seems to be rounding into top form heading into the all-important spring and summer events.

Read the full article HERE.

Check out Gabby's post win interview below.