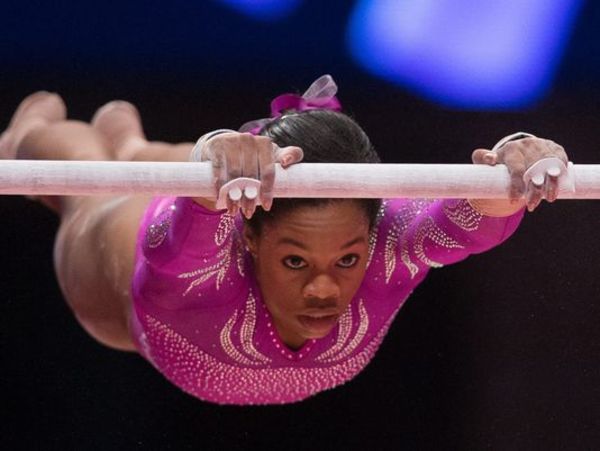 From USA Today - By Nancy Armour - Photo by Andrew Cowie

Gabby Douglas rarely does what's expected of her.

No one but Martha Karolyi had her on the team for the 2011 world gymnastics championships and, yet, there she was. No one thought much of her chances in Tokyo, so all she did was post the fifth-highest total in qualifying, make the uneven bars final and help the Americans win the team title.

She was supposed to be the odd-American out in the all-around at the London Olympics, and we all know what happened there.

So it should come as no surprise that Douglas' name was near the top of the standings after qualifying Saturday. Olympic champions aren't supposed to come back, and they're sure not supposed to make their first major international meet in three years look easy.

Not that Douglas was giving herself high marks. When gold is your signature color, anything else is just meh.

"Overall it was OK," Douglas said after finishing with the third-best score in qualifying despite a fall on balance beam. "I really didn't do the same thing I did in training. I know I could do a lot better on each of the events, so I've just got to go back and do a lot more training."

Douglas led the Americans off, going first on floor exercise. While other gymnasts had been bouncing like SuperBalls, Douglas' landings were so secure it was as if she had glue on her feet. She appeared weightless on her tumbling passes, floating above the floor.

All that was missing was the energy that crackled from her like electricity in 2012.

"I wasn't really nervous," Douglas said. "I think I kind of wanted to be sassy a little bit, and my mom's like, 'No, you gotta be smiley because it looks like you're really serious on the floor and I need that smile.'

"OK, I'll try not to be sassy. I'll try to be a little more bubbly," Douglas said, laughing and flashing a grin.

Though she has been training the difficult Amanar vault, it isn't quite where she wants it to be. She opted for the easier Yurchenko double instead and landed it without the slightest wobble.

She flitted between the uneven bars like a hummingbird, the lightness of her movements betraying their difficulty.

Her only real trouble came on balance beam, where she fell on a back somersault series. Her left foot never made contact with the 4-inch beam, brushing past it and pulling Douglas down to the floor.

Her final score of 57.516 was a little more than four points behind teammate and two-time defending world champion Simone Biles. But she was just .124 points behind Switzerland's Giulia Steingruber.

The all-around final is Thursday night, and scores start from scratch.

"I just look overall and like, that wasn't the best," Douglas said. "I really kind of pick apart my routines so I don't get …"

At that, she held up her hands to mimic a gargantuan head.

Still, what Douglas and fellow Fierce Fiver Aly Raisman have already done is nothing short of amazing.

Both took about a year off after the London Olympics, eager to take advantage of all the opportunities that come with winning multiple gold medals as part of a team that outshined everybody but Michael Phelps, Missy Franklin, and LeBron and Friends.

Raisman participated on Dancing with the Stars. Douglas hobnobbed with Oprah and saw her life story made into a movie. Both walked the red carpet at several events.

Few would have expected to see them in a leotard again, the muscle memory that's required for such gravity-defying skills fading in a matter of weeks. Which is part of what drives Douglas to do it.

Only two women have won back-to-back gold medals, and the last did it in 1968. No Olympic champion has even made it to the next Games since Nadia Comaneci in 1980. Everything says history isn't in Douglas' favor.

And that is when she's at her best.