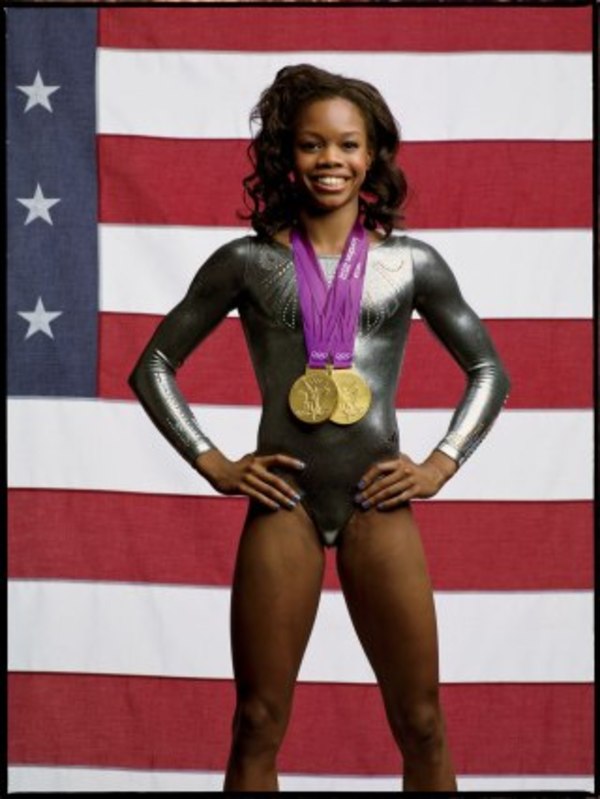 It's obvious that Gabby Douglas's world will never be the same. But the 16-year-old, who this summer became the first black woman of any nationality (and only the fourth American) to win gold in the individual all-around in women's gymnastics, didn't get there by living a normal life. In London, where Douglas's poise far exceeds that of the journalists swarming around her, Buzz Bissinger talks to the sweetheart of the 2012 Olympics and finds the real story is about a family's love.
Members of the Fourth Estate, interchangeable in their uniforms of studied rumpledness, laminated credentials dangling from their necks like dog tags, surround a teenage girl of impeccable skill and impeccable figure in an impeccable red-white-and-blue leotard. The journalists come from all over the world—CBS, Reuters, Televisa in Mexico, The Washington Post, a network based in France that goes out to 60 countries—asking her questions with far less poise than this 16-year-old going on 26 displays in answering them.
She is the one who should be nervous, given her age and size (four feet eleven inches and 94 pounds). She is the one who should be intimidated as the crowd around her grows, a seemingly impenetrable wall of reporters, although, with her athleticism, she could probably just vault over all of us if she felt the need to escape.
But it is the journalists who are nervous, questions asked not because they are interesting but to prolong the opportunity to be around this girl and her singular stardom—the giggly laugh, the melt-in-your-mouth smile, the words speeding from her lips as if there will never be enough time in life to say them all. The setting, the Adidas media lounge, across from Olympic Park, in East London, is surreal, towering rows of glossy red Adidas athletic shoes looking down upon this circle of sycophancy like glazed bleacher bums. But the girl in the middle is as real as it ever gets.
The journalists are frankly embarrassing. They ask if they can pose with her for a smartphone picture. They congratulate her over and over again. They seem not simply in awe of her but magnetized by the force field of her aura. It's as if she were a new Batman character, Gymnastica.
(The fact that I effuse over her like Victoria Falls, and also have my picture taken with her, should be considered merely collegial.)
This has become a familiar ritual, ever since Gabrielle Douglas, known to the world as Gabby, became the "It girl" of the London Olympics six days earlier, on August 2, winning the gold medal in the individual all-around competition in women's gymnastics, only the fourth American in history to do so, and the first black woman of any nationality. And that was only three nights after she played a key role in leading the U.S. to its second-ever women's-team gold medal.