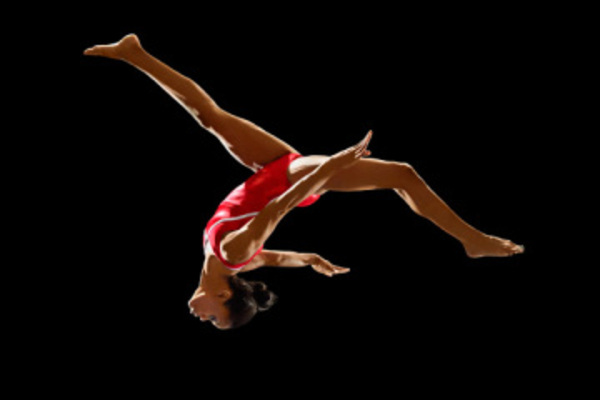 Start with a talented, headstrong, African-American gymnast from Virginia Beach. Let her watch the 2008 Olympic Games and become obsessed with the idea that a coach she sees on TV — who once competed for China but now trains Americans in Iowa — can make her a star. Move her in with a host family of Iowans to train with this coach. Throw in some teenage troubles (she is just 16, after all) and add a world championship and release moves that earn her a memorable moniker — the Flying Squirrel. If this Olympic story gets any sweeter, Disney will option the movie rights.
The only thing missing is the gold medal, which would be a perfectly acceptable substitute for the princess's crown in the fairy tale that is now Gabrielle Douglas' life. The teen gymnast, currently living in West Des Moines, Iowa, has spent the past year and a half away from her close-knit family and become part of another one, all to secure her place on the U.S. squad. Along the way, she's had to learn that Olympic dreams come with nightmares — in her case, a haunting self-doubt that gnaws away at the bravado built up from hours and hours of nailed routines in the gym.
Unquestionably talented, Douglas secured the only guaranteed spot on the women's squad by winning the U.S. Olympic trials. But the trip to London wasn't always a sure thing. She lacked consistency at meets, dazzling at one and letting her nerves get the best of her at the next. Doubt is any elite athlete's worst enemy. It's the mind overtaking the body, thoughts ruling actions, and the result, almost always, is a broken heart. To hear Douglas tell it, the anxiety always emerges with the same questions: Am I good enough? Can I compete with the best? In only her second year as a senior-level gymnast, Douglas is learning what it takes to harden those nerves into the anchored focus of an Olympian. She has learned that to be a competitor, -you can't make friends on the floor. "No one is going to feel sorry for you, so you have to go out there and be fierce," she says.
Ever since she performed her first perfect cartwheel at age 3, this is what Douglas has wanted. She possesses the package that international judges reward: effortless flexibility combined with a competitive spirit that has made her the nation's leading uneven-bars performer. "I like to give them the Flying Squirrel when I go out there and perform," she says. And her energetic tumbling runs make her a crowd favorite on the floor exercise and vault. In London, she'll be in contention for the coveted all-around title, which for the past two Games has gone to an American. But even more important than that potential three-peat, Douglas' contributions could help the U.S. redeem its loss in the team-gold-medal race — missed in Beijing by 2.3 points to China — and win its first in 16 years.