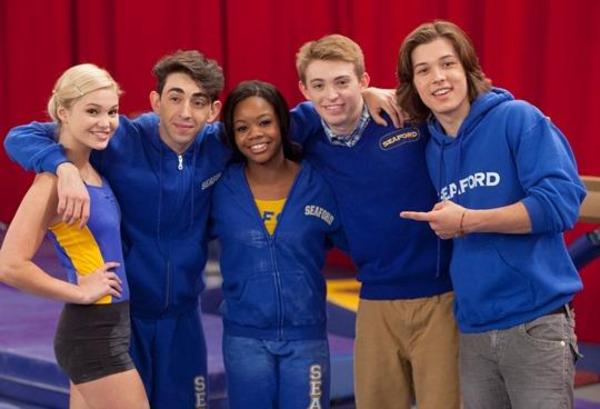 In all new Kickin' It this Monday on Disney XD, a super special guest will be making an appearance, and there is no way you will want to miss it!
In "Gabby's Gold" Kim(Olivia Holt) deals with a humiliating loss at her gymnastics competition, resulting in her team and coach quitting on her. What a shame! We love Kim! The huge meet against Seaford's rival is coming up in a week, and there is nothing to do. Kim has accepted the fact she will be defeated, however Milton(Dylan Snyder) decides to do whatever he can to help. Luckily he crosses paths with Olympic Gold Medalist Gabby Douglas and she offers to help! Can we get coaching lessons from the ultimate pro gymnast?? As she is recruited as coach, it's all up to Kim to gain courage and go for the win! We obviously are rooting for her and know she will eventually pull through!
What an amazing episode coming up! Check out the clip below and let us know what you think, and don't forget to watch it this Monday August 12th at 8:30pm(ET/PT)!